If you are thinking on making your first trip to Beijing, you must visit The Great Wall of China.
There are some famous wall sections near Beijing. From the best-restored Mutianyu, to the most beautiful Jinshanling, or the wildest Jiankou, and to the most crowded and popular section among Chinese tourists, Badaling.
Se está a considerar uma viagem a Pequim, sem dúvida alguma, vai querer visitar uma secção da Grande Muralha da China.
Existem algumas secções perto de Pequim. Da mais bem restaurada, Mutianyu, à mais bela, Jinshanling, da mais selvagem, Jiankou, à mais concorrida e popular entre os turistas Chineses, Badaling.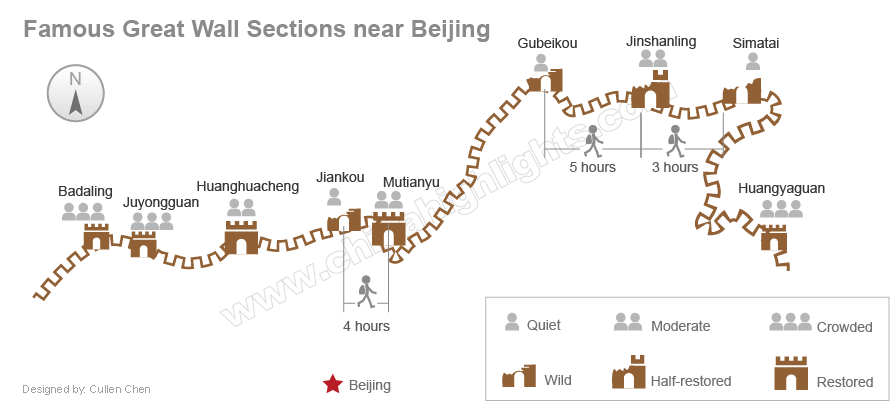 Some sections are closer to Beijing than others and have well established transportation. This is the case of Badaling. You can get there easily with a direct and cheap bus from Beijing. The downside is that you must be prepared to share your visit with a lot of other people.
If you prefer to visit the well restored, but not so accesible, Mutianyu section, I strongly advise you to rent a car driver service. This was the section that I also visited. It's possible to use public transportation to get there, but you will need to permute at least once; and presuming that you don't speak Mandarin (and in general, Chinese people don't speak English), and that a surprisingly large amount of foreign apps don't work in China, this can be a truly challenging experience. For these reasons I rented a car service. If these two options do not suit your style, you can simple join a tour (which in my opinion is the worst option of the three).
Algumas secções localizam-se mais perto de Pequim do que outras. Algumas são mais acessíveis do que outras. Como o caso de Badaling. Desde Pequim, de autocarro e sem necessidade de comutar, por um preço reduzido, chega à muralha. O lado negativo desta escolha prende-se com o mar de pessoas que vai encontrar.
Se decidir visitar a secção mais bem restaurada, a secção Mutianyu, tal como eu fiz, aconselho-o a alugar um serviço de motorista. Pode chegar de transporte público, mas necessita permutar e presumindo que não fala Mandarim (em geral, os Chineses não falam Inglês) e tendo em conta que imensas aplicações de telemóvel não funcionam na China, será uma escolha desafiante. Ou pode simplesmente juntar-se a uma excursão.
MUTIANYU GREAT WALL
I used this car service to reach the Mutianyu section.
I scheduled to depart from my hotel in Beijing at 7.00 am. In this way I could avoid the typical crowds at the great wall and get some great pictures. Jenny, the car service driver was sharp on time, and at 7.00 am she was at the Lobby of the hotel to greet my husband and I .
The car/van was very confortable and had free WiFi. Jenny provided us with some fruits and also bottles of water. She spoke English, but her purpose was not to be a travel guide. Therefore I recommend you to prepare well in advance and to read and pack-up your (e-)books and guides for a better experience.
One hour and half later we arrived at the Mutianyu section.
I paid 850 RMB* (costs info here), around 113 €/133 usd, to rent the car service for a day (~8-9 hours). The renting service does not scale with the amount of people. So as long as you fit in the van (up to 5 people), you will pay this fixed value. On the other hand, if you join a tour, you will pay almost the same but per person. And as I already said, you don't have much flexibility.
*Our car service included a stop at the Beijing Summer Palace. If you just choose the car service to reach the Mutianyu Great Wall, you pay 650 rmb.
Usei este serviço para aceder à secção Mutianyu.
Planeei sair do hotel em Pequim às 7h, de forma a evitar multidões. A essa hora, a motorista, Jenny, estava na entrada do hotel.
O carro era confortável e possuía wifi gratuíto. A motorista forneceu-nos algumas frutas e garrafas de água. Ela fala pouco Inglês, mas o suficiente. Ela não é uma guia de viagens, por isso leve os seus guias.
Uma hora e meia depois chegavamos à secção Mutianyu.
Paguei 850 RMB * (custos aqui), em torno de 113 € / 133USD, pelo serviço de motorista por um dia (~8-9 horas). O serviço de aluguer não aumenta de acordo com a quantidade de pessoas. Se está num grupo até 5 pessoas pagarão o mesmo. Por outro lado, se participar numa excursão pagará um valor semelhante, mas por pessoa, e não terá muita flexibilidade.
* A nossa viagem foi combinada com uma paragem no Palácio de Verão em Pequim. O custo de / para a Grande Muralha de Mutianyu é menor, 650rmb.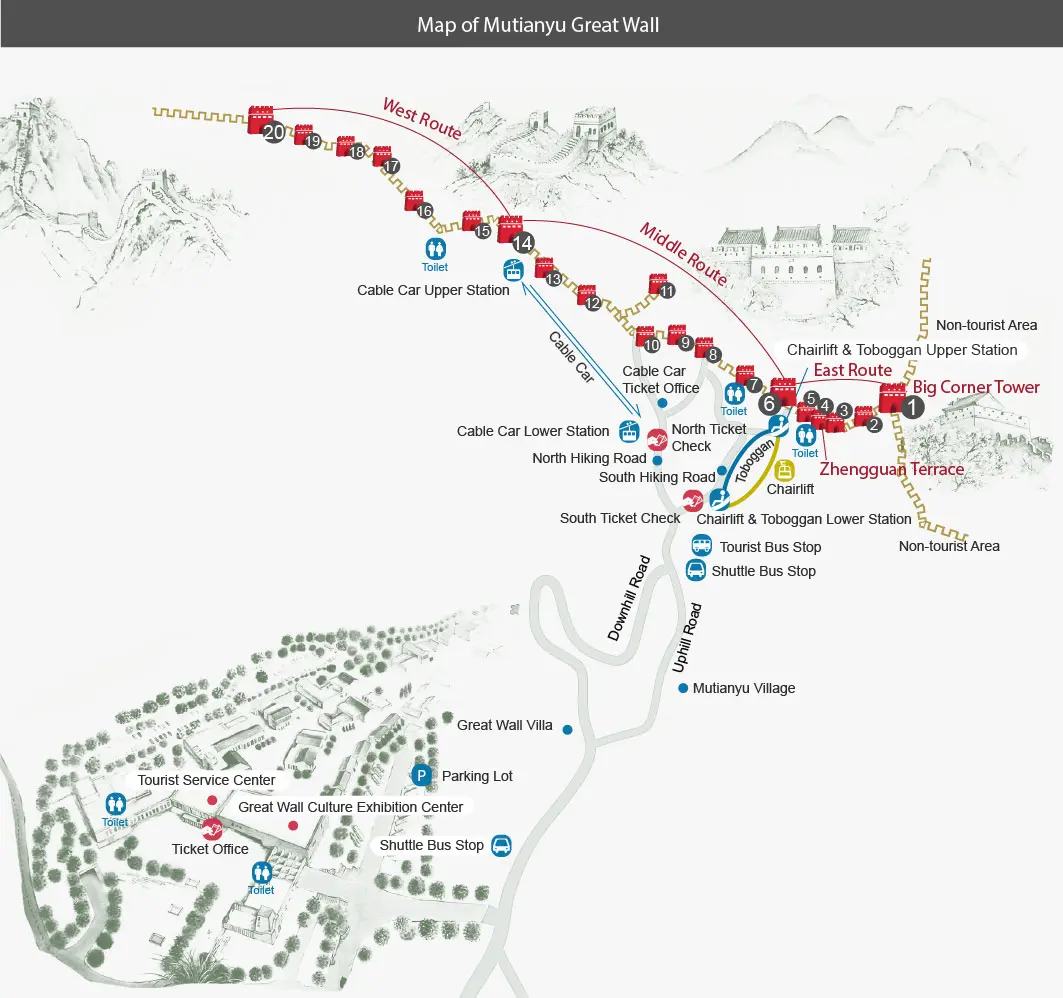 Mutianyu Great Wall is a recently restored Ming dynasty section. The US ex-president Bill Clinton visited this part of the wall in 1998.
Once you arrive at the Mutianyu Great Wall (Tourist Service Center), you have to take a shuttle bus (available every 20 minutes) that goes uphill to the main entrance. The access to the Great Wall and the shuttle ticket will cost you 60 RMB each (check the links for up to date prices). Jenny, the driver, had a special card which gave her access to a parking lot up the hill, close to the main entrance. Since it was more convenient to go with Jenny, we didn't take the shuttle bus (but we still had to pay the same 60 RMB each).
Now you have to decide how to get to and from the wall. You can go on foot/hike, and pay nothing, or you can do as we did, and go up by cable car, which arrives at the watchtower number 14 (the same cable car can also take you down to the entrance). To come down, we took the toboggan, located on the watchtower number 6. On this same watchtower, there's also a chairlift that goes up and down.
A Grande Muralha de Mutianyu é uma estrutura da dinastia Ming recentemente restaurada. O ex-presidente dos EUA, Bill Clinton, visitou esta secção da muralha em 1998.
Ao chegar na Grande Muralha de Mutianyu (Centro de Atendimento ao Turísta), necessita adquirir os seus bilhetes para a Grande Muralha, e outros para o autocarro (disponível a cada 20 minutes) que o levará até à entrada principal. O acesso à muralha mais o shuttle custa 60 RMB. Jenny, a motorista, tem um cartão especial que lhe dá acesso a um parque VIP no alto da colina, deste modo não fizemos uso do shuttle (mas pagamos 60 RMB na mesma).
De seguida terá que decidir como quer subir e descer (até a)/da muralha. Poderá subir a colina a pé e não pagará nada. Ou subir de teleférico, tal como nós fizemos, que chega/desce da torre de vigia 14. Para voltar optamos pelo toboggan que desce na torre de vigia 6. Há também um teleférico aberto (como os das estações de ski), que sobe e desce, perto da torre de vigia 6.
Check up-to-date Prices here.
Hours: 7.30-6pm (6.30pm Saturday and Sunday). Low season: 8am-5pm.

Carina visited Mutianyu Great Wall of China in May 2018 and this is just her opinion.
Carina visitou a Muralha da China, secção de Mutianyu, em Maio de 2018, e esta é, apenas, a sua opinião.